Description
available in 8.5 Fr. and 10 Fr.
outer tube with distally conical metal head (diathermy head)
inner catheter with puncture needle
working length 210 cm
2 separate proximal HF connections
working channels starting from 3.2 / 3.7 mm Ø
More Information
Cysto-Gastro-Set *, **
Includes needle knife; outer catheter with diathermic tip
| Catalogue No. | Description | Working Length (cm) | Catheter Outer Diameter (French) | Compatible Guide Wire (inch) |
| --- | --- | --- | --- | --- |
| E30008341 | 2 HF-Connectors | 180 | 8.5 | .025 |
| E30010340 | 2 HF-Connectors | 180 | 10 | .035 |
* Fr. Type 10 and 8.5
After the initial access with the implemented needle knife, the incision can be enlarged with the diathermic metal tip on the Fr. 10 or Fr. 8.5 outer sheath. The sets are equipped with two HF connectors, one each for the needle knife and the diathermic tip on the outer catheter.
** Drainage
After access to the identified pseudocyst appropriate stents can be placed over the guide wire to facilitate drainage from the cyst to either the stomach or the duodenum.
Instructions for Use - Cysto-Gastro-Sets SU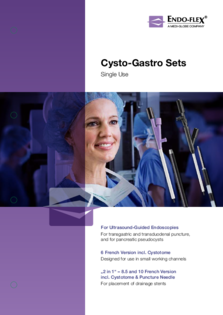 Leaflet Cysto-Gastro Sets - Single Use